Panchamrit Plant Protein Powder with Ayurvedic Herbs | Chocolate Flavor
Sale price
₹ 999
Regular price
₹ 1,300
23% Off
Unit price
per
Sale
Sold out
Get additional 15% off on purchase of Rs. 1300 or above
Get an additional 10% off on purchase of Rs. 1000 or above
View All Offers & Coupons
Your search for the ideal, all-natural, vegan protein ends here! Enriched with the goodness of powerhouse herbs like Ashwagandha, Gokhru and Arjuna our Ayurvedic... see more
Your search for the ideal, all-natural, vegan protein ends here! Enriched with the goodness of powerhouse herbs like Ashwagandha, Gokhru and Arjuna our Ayurvedic Plant Protein is the key to #BeStrongerEveryday
see less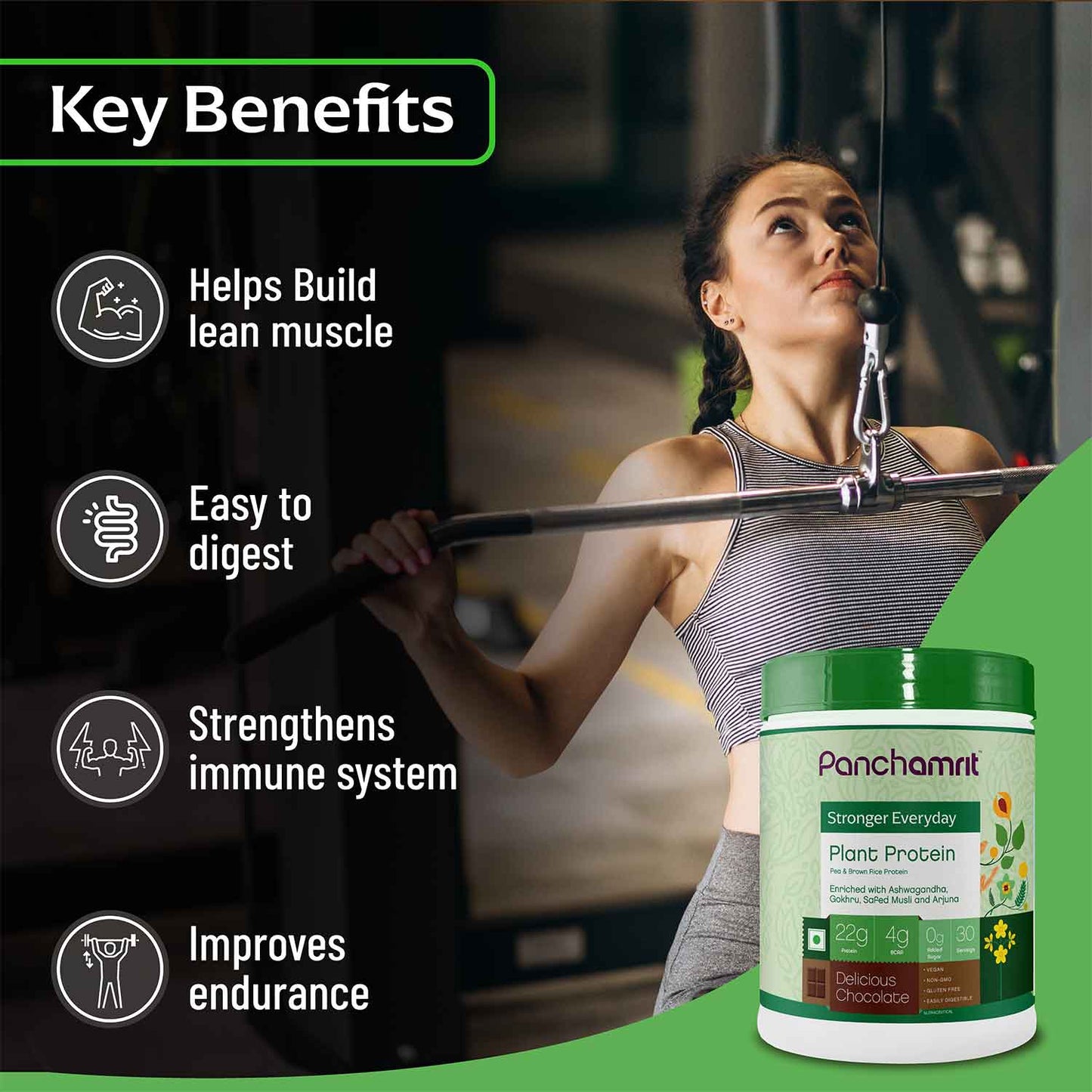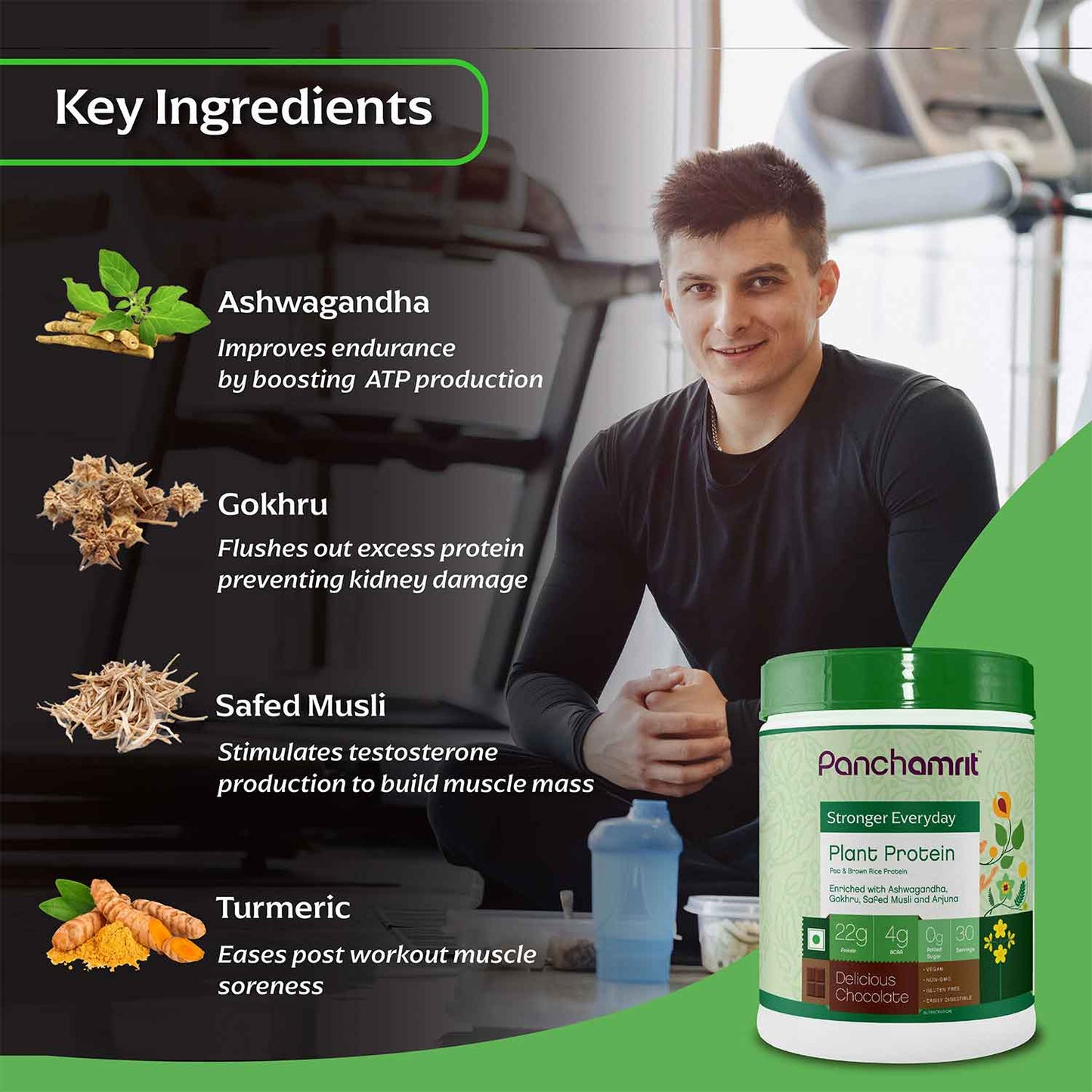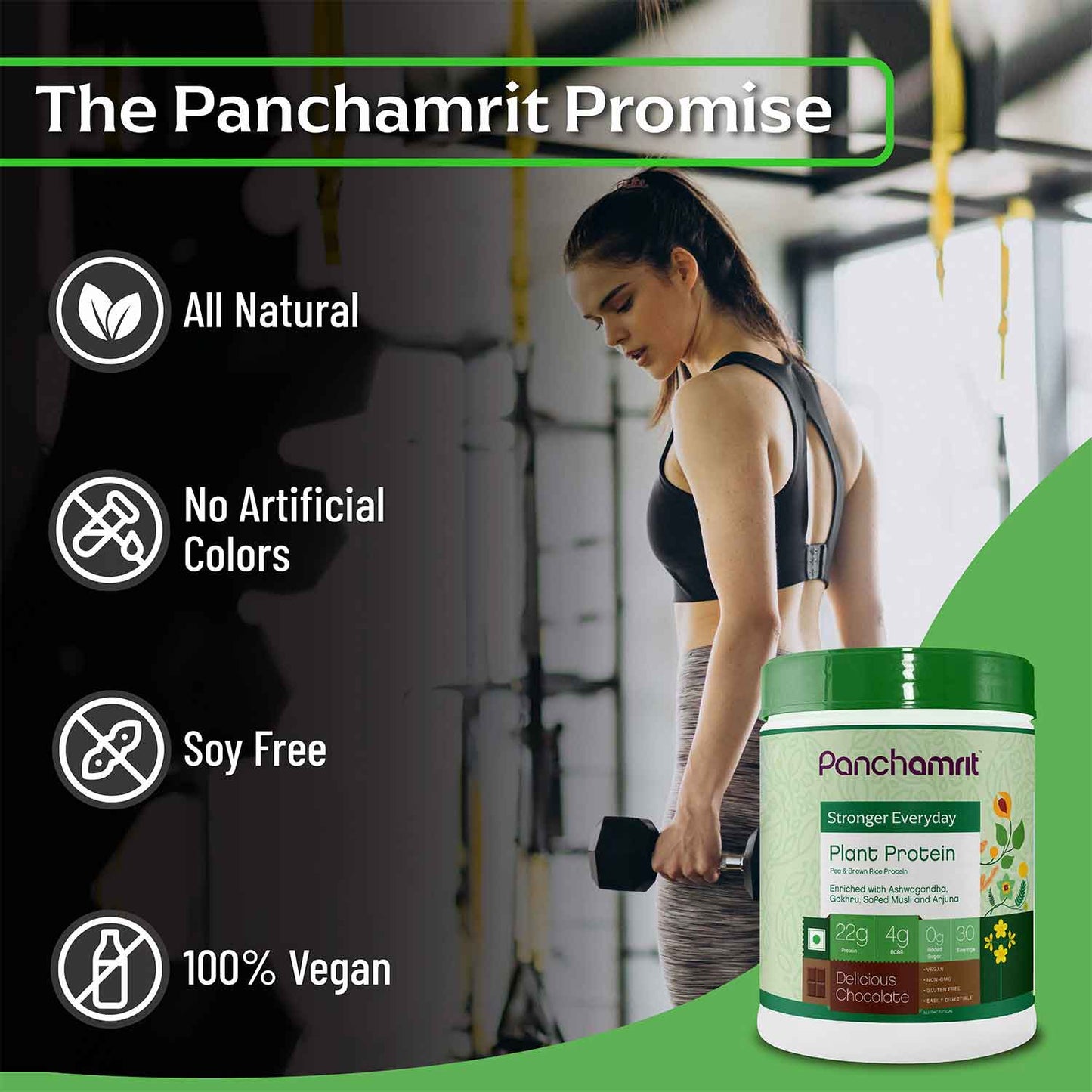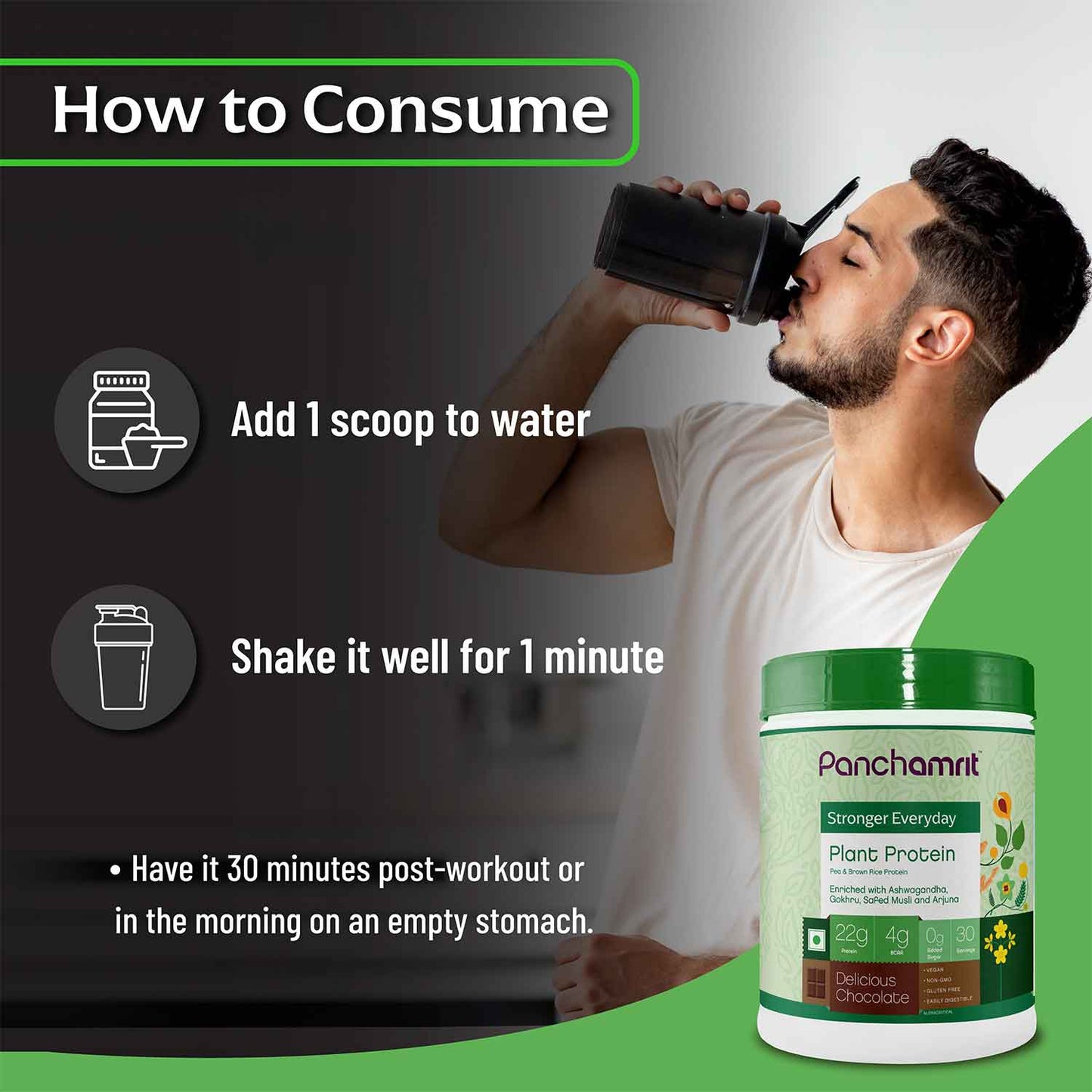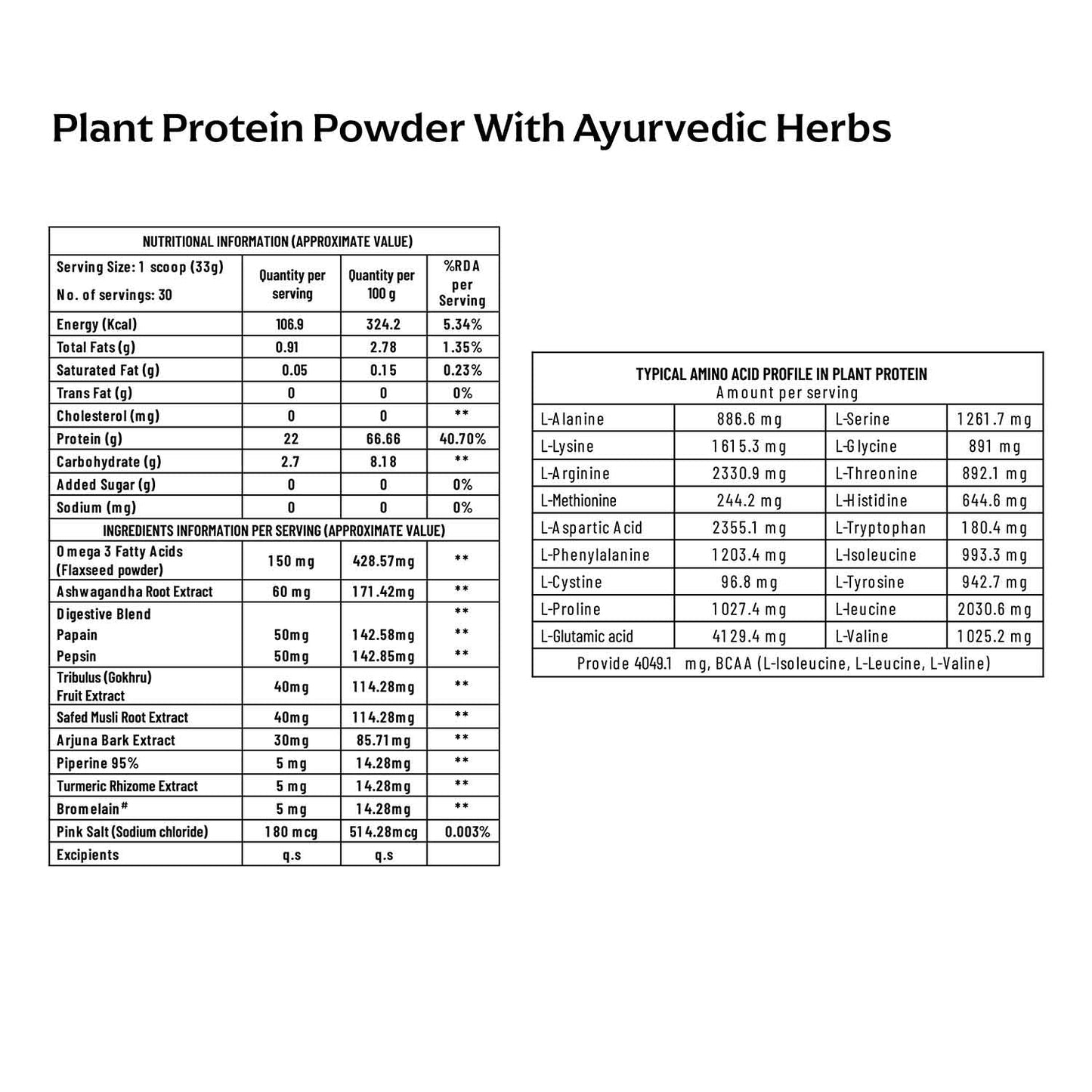 Key ingredients and their magic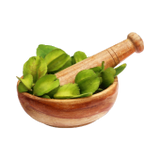 Arjuna
Ashwagandha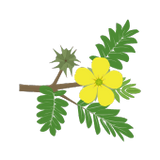 Gokhru
Efficacy & Results
By Month 1
You may notice increased energy levels, improved muscle recovery, and enhanced endurance during workouts.
by month 2
You could witness noticeable gains in lean muscle mass and strength
By Month 3
The synergistic effects of the Ayurvedic super herbs may further amplify your results, supporting sustained muscle growth, quick recovery, and overall well-being.
For best results, consume 1 scoop everyday, with breakfast or post workout
Storage
Store in a dry place and away from direct sunlight. Keep out of reach of children.
Easy to mix
I love how easy this plant-based protein powder is to mix. It's perfect for post-workout shakes and helps me build lean muscle.
Love the taste
I've tried a lot of different protein powders, but this one is my favorite. The taste is amazing and it helps me gain muscle mass.
Perfect for vegans
As a vegan, it can be hard to find a protein powder that meets my needs. This plant-based powder is perfect! It helps me build lean muscle and is easy to digest.
Highly recommend
If you're looking for a plant-based protein powder that helps build lean muscle and aids in quicker muscle recovery, this is the one! I highly recommend it.
Perfect for my active lifestyle
I've been looking for a plant-based protein powder that's easy to digest and helps me build lean muscle. This one is perfect! It's also great for my active lifestyle.
FAQ
They are formulated with 'Active Ayurveda' - which means Ayurvedic herbs like ashwagandha, arjuna, gokhru, safed musli, and turmeric are combined with naturally sourced protein from pea and brown rice, giving them a unique formulation with enhanced absorption.
Improved stamina and energy levels, stronger muscles and noticeable muscle gain with the right workout routine and consistent consumption.
For best results, consume 1 scoop of protein powder post workout or anytime during the day, daily for 10-12 weeks.
One scoop of Panchamrit plant protein powder provides 22g of protein with 4 g BCAA, which naturally improve your holistic health and help you #StrongerEveryday
Nope! Just stick to the recommended dosage on the product and/or as prescribed by your physician and you're good.
Anyone above 16 years of age can safely consume this plant based protein.
Nothing! However, we encourage you to maintain consistency for optimal results as our products are formulated on the core belief in the power of compounding.
You need to take one scoop of plant protein, and drop it in a glass of room temperature water or milk and stir well. It completely dissolves in 1-2 minutes, forming a smoothie with a delicious chocolate flavour
Absolutely! Our products are 100% vegan, natural and preservative free